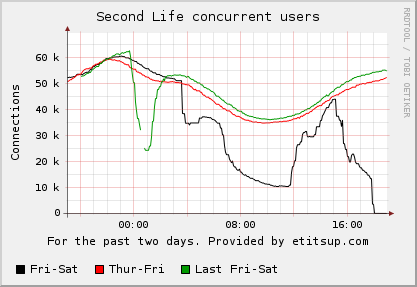 Click on the image above for more detail.
Well another bad day. The worst in my memory, anyway. Between routing issues (see earlier post) and in world issues the grid has been down most of the day and the night before and when available was slow and laggy. As you can see on the graph above (click for more detail) we're down to having a closed system for Lindens only. It's been a while since the introduced the het-grid and we've not really seen every being kicked off since that. Here's hoping it'll be fixed soon and on a more permanent basis.
[Update 9:30pm] Second Life is up once again. Watch the rate at which users log in…!